HiddenAd or HiddAd are icon-hiding adware applications. The prime motive of HiddAd is to generate revenue through aggressive advertisements. As long as HiddAd remains on the device, it will generate revenue for the malware author. To make uninstalling difficult, malware authors hide the application's icon from the application drawer. They also use different deceptive techniques to make uninstallation less intuitive to the users.
HiddAd is not a new thing for the Google Play Store. We have seen many such malware applications on the Google Play Store in the last 3-4 years.
In May 2018, researchers found 38 HiddAd applications on the Google Play Store disguised as games and educational applications. These applications were found to be displaying ads and redirecting users to install another application. For hiding the application icon, these applications are used setComponentEnabledSettings API. These applications have added another layer of deception by using different names on the Google Play Store and different application names after installation. This name change made it even more difficult for the users to identify the app and remove it from their devices.
In the same month, another researcher found the HiddAd application on Google Play Store that was forcing users into leaving 5-star ratings in order to remove ads from the app. This is to increase its reach, as a good rating was intended to increase its download probability. In June 2018, a HiddAd application bike racing game was found, making uninstallation difficult by using device admin permission.
2019 is known as the year of HiddAds, as many such applications were reported in that year.
In the month of Feb 2019, 40 HiddAds were reported to beusing social media to spread.
In August, 85 Photography and Gaming applicationsrecorded timestamps and started showing ads 30 minutes after the first launch.
In September 2019, 25 new HiddAds were reportedusing configuration files to hide their icon.
Similarly, in October, another 15 applications were reported as being useddeceptive application icons and names that resemble a system application.
We observed similar cases in the year 2020 related to the HiddAd applications. In Feb 2021, the updated version of the Barcode scanner application with 10 million downloads was found to be HiddAd.
Quick heal researchers also contributed to this HiddAds by reporting and removing several HiddAds from Google Play Store.
In August 2018, we found 8 HiddAd applications on Google Play Store which were using application names such as Google Play Service or Google Play Store and icons of genuine apps such as Google Play Store, default Android icon, or YouTube.
In September 2019, we reported 29 HiddAds with 10 million+ downloads using different techniques to hide their code.
In March 2020Quick Heal researchers reported another 15 HiddAds to Google.
Recently we found 14 such applications on Google Play Store. The download count of all these applications is more than 6 million. These applications are HiddAd malware and execute themselves without user interaction. We have denoted them by naming themAutolauncher HiddAds." Fig.1 shows icons of malicious applications.
Fig.1 Application icon
Now let's have a look into one of these applications.
Application Name: Windy Clean
MD5: 2e4649e88bd9ae39d66b92f473fae8e9
As soon as we installed the application, it immediately started its activity. We didn't have to take any action as we didn't even click on its icon to run the application. It hides its icon from the application drawer and starts displaying overlapping pop-up advertisements. fig. 2 shows pop ads shown by malicious applications.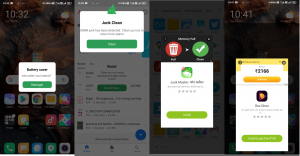 Fig.2 Malware application showing ads
In the background, as soon as the installation is completed, the application requests the advertising server. It sends information about OS, phone, etc. In response, it gets encrypted information about the advertisement.

Fig.3 Malware makes this request as it is installed
This application uses a broadcast receiver to execute the code on various system broadcasts: –

fig. 4 Broadcast Receiver's intent filter
These applications show aggressive ads overlapping other applications, which can be very annoying for the users who install them. Some users have expressed their anger by writing bad reviews about the application.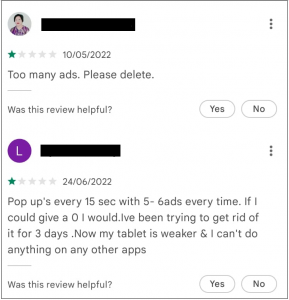 Fig.5 Users expressing their anger
As illustrated in the following table, all these applications are reported from the Tools category. They claim to provide free android cleanup and enhancement programs, phone acceleration, CPU cooling, garbage cleaner, battery saver, virus scanning, etc. They use these claims to reach out to more users and increase the download count. Each application is published from a different developer account, but all of them have a similar code structure and malicious behavior. Most of these applications were recently released on the Google Play Store.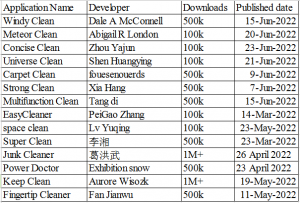 fig. 6 Application information
IOC List:
Quick Heal Security Labs detects these apps with variants of Android.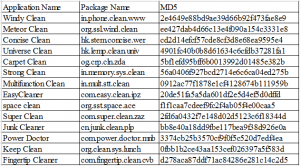 Conclusion:
The above-mentioned malware applications behave differently than the other malware we reported earlier. Automatically launching applications without user interaction is a dangerous weapon that can be misused to harm the user's device and data. We may see more malware applications using such techniques in the future. Quick Heal's Security Lab continuously checks applications from the Google Play Store for such malware.
The application ensures to bombard you with pop-up advertisements. If you have the Hiddad adware on your devices, we recommend you to remove it immediately.
Tips to keep you safe from such malware applications:
You should not fall for claims made by application developers.
You should read reviews as it may give some idea about the application's working.
Try to limit yourself to known apps from known developers and keep only those apps on mobile that are really required.
Use a reliable mobile antivirus (like Quick Heal Total Security) that can prevent fake, malicious apps, adware, etc., from getting installed on your phone.